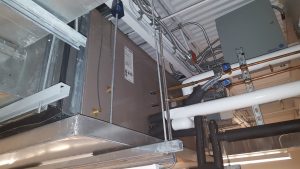 Maintenance programs save you time, money
and extend the life of your equipment
In the world of commercial business, nothing is more important than the efficiency, productivity, and overall success. That goes for how your business operates, sure, but it also goes for your major equipment including your HVAC systems. Ideally you want these systems to run reliably and cost-effectively, and you want to minimize costly breakdowns. The best way to do this? Ensure you schedule routine professional maintenance with Alliance Air Solutions.
Benefits of Preventative HVAC Maintenance 
We could tell you all day how important maintenance is for your systems. But, the bottom line is always going to boil down to what you can actually gain from the service. What does maintenance do? Does it actually have tangible, observable benefits? We're happy to say it certainly does, including:
Increased HVAC efficiency
Lower heating and cooling costs
Preserves function and increased equipment lifespan
Reduces the risk of breakdowns and sudden repair costs
Helps you keep downtime to a minimum
​Alliance Air Solutions, Inc. was founded on providing quality commercial HVAC service, and we have expanded to include industrial and institutional service. While providing HVAC service, our intention is to develop long-term client relationships and maintain your systems so they operate efficiently. We work with a variety of companies throughout Tampa Bay and , including retail, corporate, banks, schools, hotels and more. Call us today to discuss your needs or to schedule an appointment.
Boiler Plates
Built-up System
Chillers
Chilled Water Pumps
Computer Room Cooling
Cooling Towers
Ductless Systems
Electric/Pneumatic Controls
Fan Balancing
Heat Pumps
High and Low Pressure Steam
Humidification
Make-up Air
Multi-Zone
Package Rooftops
Process Piping
Refrigerant conversions
Tenant Fit Out
Variable Air Volume
Variable Frequency Drives
24-Hour Emergency HVAC Service 
Our experienced team is capable of handling a variety of problems or situations with your HVAC system.
For service, call us at 727-478-0759.
HVAC Service Area
We provide HVAC service throughout the Tampa Bay area, including Hillsborough, Pinellas, Pasco and Manatee counties and everywhere on the west coast of Florida.